Invasive Knotweed Survey and Treatment Project in Salem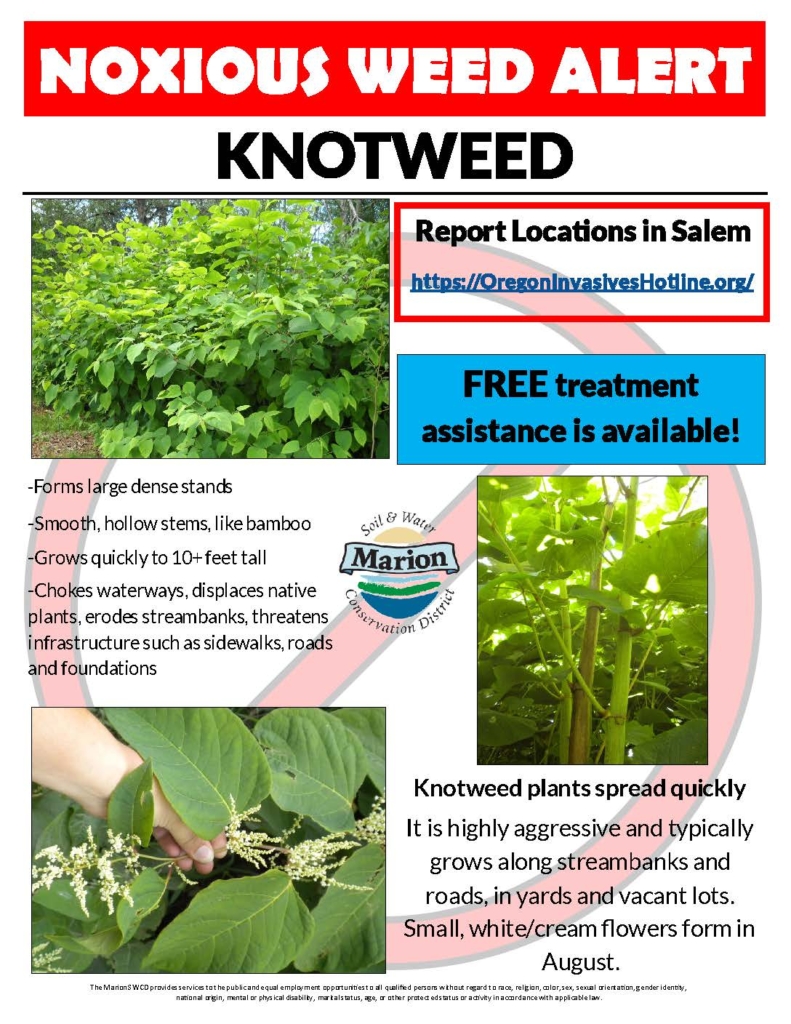 The Marion Soil and Water Conservation District (SWCD) is partnering with the City of Salem, Glenn-Gibson Watershed Council, Polk Soil and Water Conservation District, and Ash Creek Forest Management, Inc. to conduct surveys and treatments of invasive knotweed in the City of Salem this summer and fall. The project is scheduled to begin in July with a large education and outreach effort and a call for knotweed locations from citizens in the City of Salem.
How you can help
Please let us know if you have this plant on your property or have seen it around Salem.
Citizens are encouraged to report locations of knotweed between July 1 and July 31 to the Oregon Invasive Hotline at https://oregoninvasiveshotline.org/. Reporters are asked to please provide an accurate description of the location of the plants when reporting. Photos are also helpful for verifying the identification of the plants.
Free treatment assistance is available for landowners with knotweed on their properties.
We are hoping to find as many infestations as possible so that we can conduct treatments to control this invasive plant in the City of Salem.
Knotweed is an aggressive noxious weed designated by the State of Oregon and Marion County. There are four similar species of invasive knotweed that are difficult to tell apart. Japanese Knotweed is the most common in Marion County. Knotweeds are all large, robust perennial plants with bamboo-like stems that spread by underground roots to form dense thickets. Knotweed plants can clog small waterways and displace desirable vegetation, increase bank erosion and impact the quality of habitat for fish and wildlife. Knotweed can also cause harm to infrastructure such as pipes, roads, sidewalks, building foundations and driveways. These plants can be found growing along waterways, roadsides, vacant lots, and in yards.
https://www.oregon.gov/oda/shared/Documents/Publications/Weeds/JapaneseKnotweedProfile.pdf
Thank you for your time and cooperation with our efforts to control invasive plants in the City of Salem. Controlling knotweed will protect the health of the watershed and prevent this plant from spreading.
Funding for this project was provided by the City of Salem
If you have questions or would like more information on this project please contact Jenny Meisel with the Marion SWCD at 503.949.9212 or [email protected]