Meandering around a garden can be very relaxing and enjoyable – bringing new discoveries along the way. A morning stroll finds many flowers snuggled tight for an extended slumber. Return later, and by noon their faces are open to the sun, bright eyed and beautiful!
Everyday can be an adventure in a garden with new visitors arriving daily: One day there is a flock of Band-tailed Pigeon, a pair of Mourning Doves, and a Thrush enjoying the view and a morsel or two of seed from a feeder. Another day a large flock of beautiful, bright yellow Gold Finch arrive, followed by an Evening grosbeak, two-Chickadees, a Flicker and maybe even a rabbit, garden snake, a pair or two of bobbing quail.
Incorporating Native Plants into the landscape have helped to attract a greater number of wildlife to my garden. The flowering Red currant is a favorite of the Rufus and Anna hummingbirds that visit. The native white dogwood tree and Indian Plum have brought in numerous birds that like to perch and visit with one another, as well as bringing beauty and shade to a sunny spot.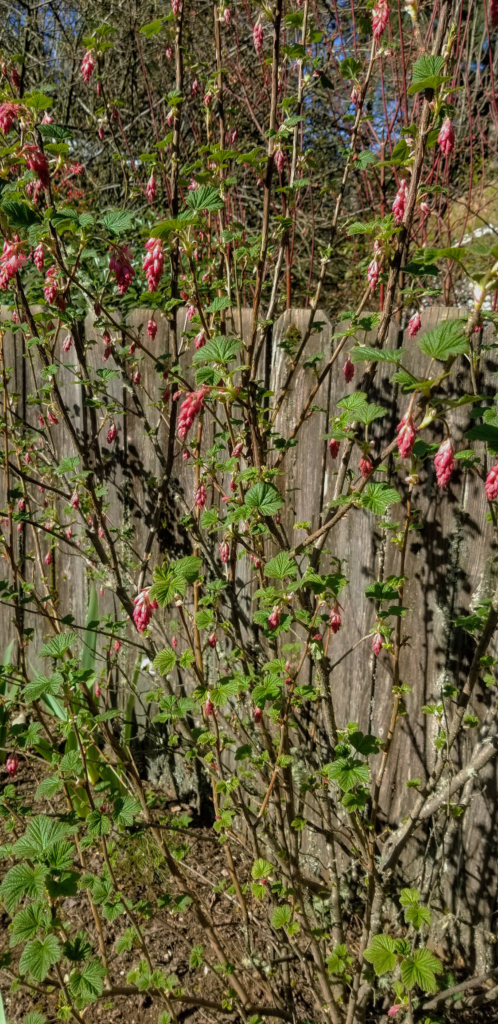 The prolific and beautiful Blue Blossom shrub brings in the bumble bees as does the flowering plants like: Trillium, Inside-out flower, Blue and White Camas, Wild Geranium, and others (a plus for the vegetables as well!). Checker mallow is pretty in pink, and the dainty Blue Violets are a favorite!

If you have not yet attended the Marion SWCD 's Annual Native Plant Sale (held the second Saturday in March at Bauman Farms, Gervais, OR), be sure to mark your calendar so you can come to our next sale. It is a great way to get introduced to the Native Plants of the Willamette Valley. Prices are affordable, and you will meet some great community members who like our Staff will be happy to share with you their own experiences and expertise on many native plants, and why you'll be happy putting some in your yard or garden.
I am proud of the Marion Soil and Water Conservation District, whom I have worked for these past thirteen years and counting. We have been promoting the use of Native Plants since 2004, and over the years we have seen the number of nurseries who are growing, and or selling them increase two, maybe three-fold. Native plants are the way to go! They are easy to grow, easy to care for, and many require less water than non-natives. If you have questions, or simply wish to share your successes and failures with us – we are happy to help you. Jenny Meisel is our Plant Specialist, and we have some great informational materials to assist you in determining which Native Plants are most suitable for your location, project or simply your pleasure.