Plant Sale Ordering is Now Closed!
There will be no day-of-sales this year due to COVID-19.
This is a pre-order sale ONLY. All orders must be placed online by 4:00pm on February 26 and picked up at Bauman's Farm and Garden: 12989 Howell Prairie Rd, NE, Gervais, OR on FRIDAY or SATURDAY March 12/13, 2021 at your selected pickup time.
Marion SWCD is not responsible for any orders that are not picked up on March 12 or 13. All leftover plants, including orders that are not picked up, will be donated to landowners and properties affected by the Beachie Creek Fire. We will not be able to accommodate any early or late pick ups.
Stock changes and growing conditions vary over the winter resulting in some plants not being available at the time of delivery from the nurseries that we purchase our plants from. Refunds will be issued for any plants that are not available. We will not be able to make any last minute substitutions.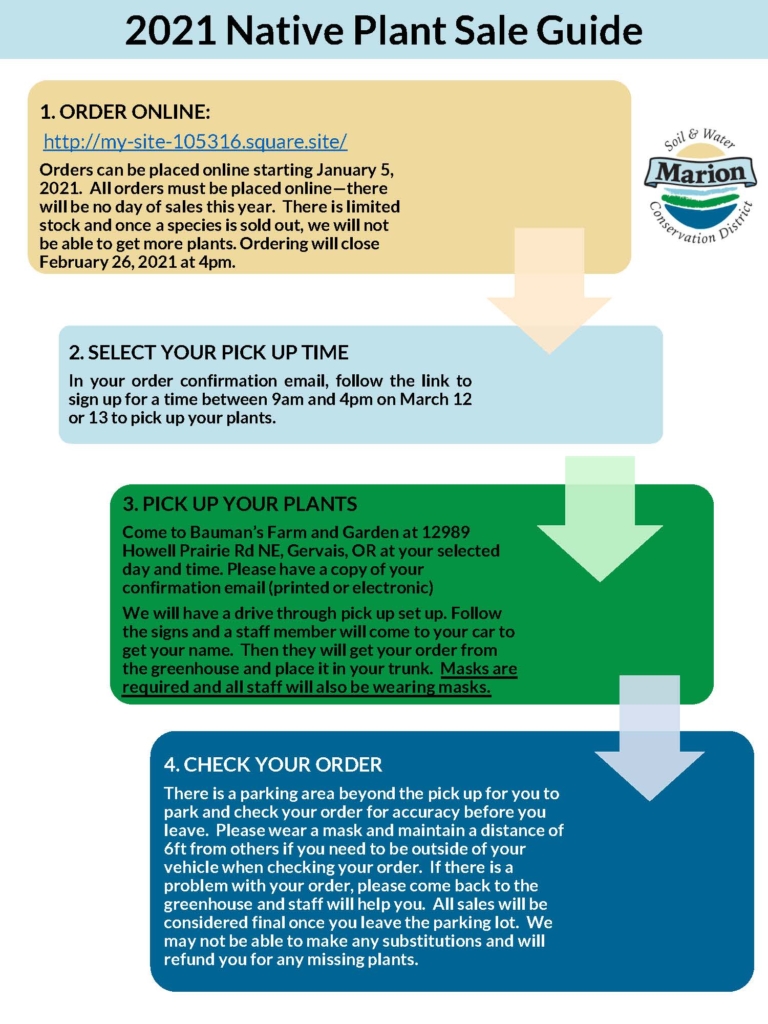 ---
A BIG Thank You to Highway Fuel Company for providing sawdust for our Native Plant Sale
---
Our native plant sale is a fundraiser that supports the Stan Vistica Memorial Scholarship. Profits from the native plant sale help fund scholarships for two students from Marion County studying Natural Resources or Agriculture at an Oregon College or University. The scholarship was established in 2006 and is named after an outstanding friend, conservationist, and former Board Member, Stan Vistica. The scholarship is administered through the Office of Student Access and Completion: www.oregonstudentaid.gov.
Using native plants in your landscape helps support and enhance local environments and habitat for wildlife, birds and pollinators. Native plants are a great benefit to any landscape because they require minimal or no water once they are established, they rarely require additional fertilizers or pesticides, native plants increase the biodiversity of an area and they are beautiful!