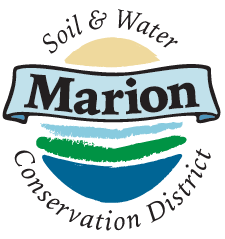 The board meeting for Wednesday, April 1st will start at 6:45pm and the Zoom Video Link will go live at 6:30pm on that day. See agenda for the access link. AGENDA
Attached is Marion SWCD's April 1, 2020 board meeting agenda. The board meeting will be held electronically thru Zoom Video Conference this month as the SWCD does their part to aid in complying with social distancing and is encouraging people to stay home to stop the spread of the Corona Virus. The board will only address a few essential business items at this meeting so the SWCD can continue to operate and meet their ongoing responsibilities.
All the SWCD Budget, Board, Committee Meetings and Work Sessions are still open to the public having access regardless of the place or means the meeting is held in or at. If anyone is not able to access the video meeting thru the Internet, than the office will open only for viewing the meeting and then close immediately afterwards. If you would otherwise need to attend in person, please call the office at least 24 hrs. before the meeting at 503-391-9927 or email at [email protected] to see if we can help make other accommodations for you and to let us know you are coming here. We must enforce strict social distancing and other measures to keep individuals from being in close contact with one another if anyone is here in person. The doors will unlock approximately 10 minutes before the meeting starts so please stay in your car until the doors are open and maintain at least a 6 foot distance from anyone else as you enter the building.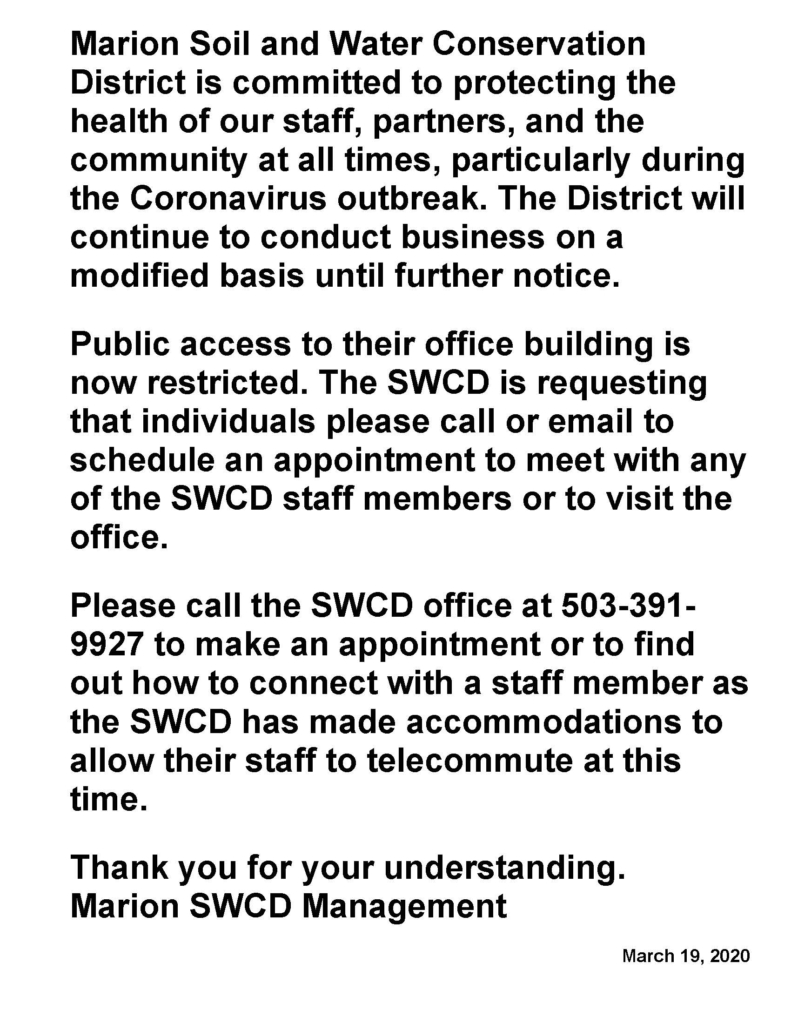 The mission of the Marion SWCD is to protect, conserve and improve the quality of soil and water in Marion County through planning, technical assistance and education.
The vision of the Marion SWCD is to:
be viewed as a leader in soil and water conservation efforts
be a prominent resource in urban and rural areas
be a resource of conservation related information
have a record of measurable and demonstrated results
---
Stay up to date on local conservation news. Subscribe to our newsletter today!
---
The Marion SWCD is an equal opportunity employer, providing services to the public without regard to race, religion, color, sexual orientation, gender identity, national origin, mental or physical disability, marital status, age or other protected status or activity in accordance with applicable law. Call 48 hours in advance to request assistance.