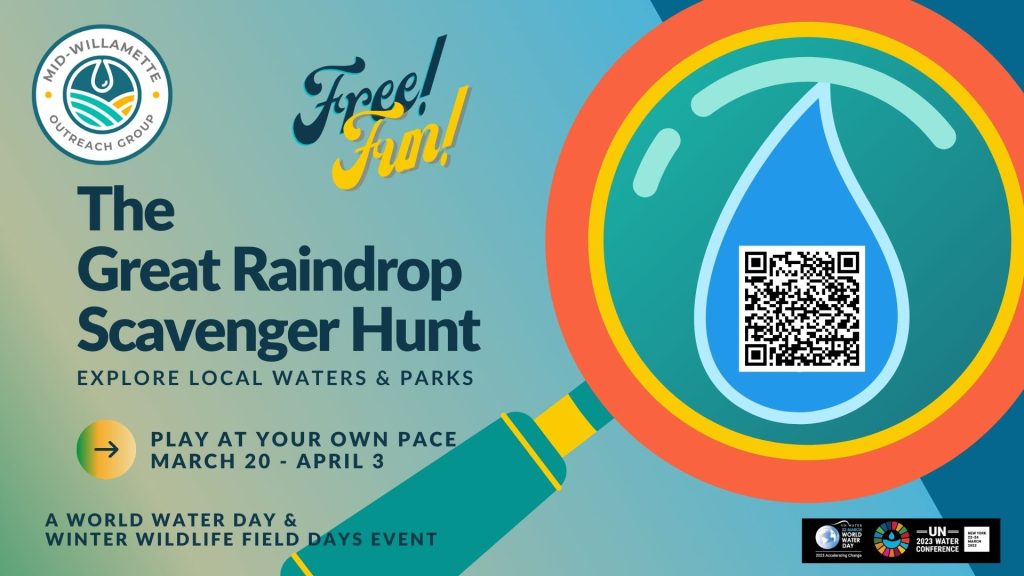 Looking for local spring break activities? Play Mid-Willamette Outreach Group's Great Raindrop Scavenger Hunt from March 20-April 3! Choose to find one or all five locations around Marion County – search for the raindrop, scan the code and take action! A fun, free event for local explorations this Spring Break!
Visit Keizer Rapids Park to learn about the water treatment system in the City of Keizer.
Visit historic Wheatland Ferry and learn about the history of river travel in Marion County.
Visit Ankeny Hill Nature Center to learn about wildlife habitat and the impacts of pollution and what you can do from US Fish & Wildlife Service.
Visit Riverfront Park to learn about City of Salem's drinking water and waste water and the many fun things to do at this park.
Visit Downtown Stayton to learn about the curious history of the Salem Ditch, visit a covered bridge, play BINGO and check out the vintage treasures and tasty eats and treats Stayton has to offer.
This play-at-your-own pace adventure is part of Winter Wildlife Field Days and World Water Day.